As part of the IFMR GSB Alumni Spotlight Series, we spoke to Preethi Rao, Associate Director, LEAD at Krea University and alum of IFMR GSB, 2006 on her journey through the years at her alma mater and how the learnings translated beyond to her trailblazing professional path.
How was your IFMR GSB experience-the classroom and the learnings?
The IFMR business school has been well known from inception for the quality of education produced and the top notch faculty that they had on board during my time, and continue to maintain till date. Our batch was an 'experimental' batch of only 20 students so we were a close knit and diverse group. This in itself provided opportunities to bring about innovative ideas and diverse opinions to the table. Combined with this, the teaching methods employed by some of the faculty, involving participatory and practical activities and aligned scoring techniques, has inspired a 'learning by doing' culture that I have carried forward in my professional career as well. We also had a mentorship model and we were all assigned a faculty mentor which helped us both in terms of pedagogical support and personal development. Academically, I had opportunities to excel, and am a proud silver medalist as well.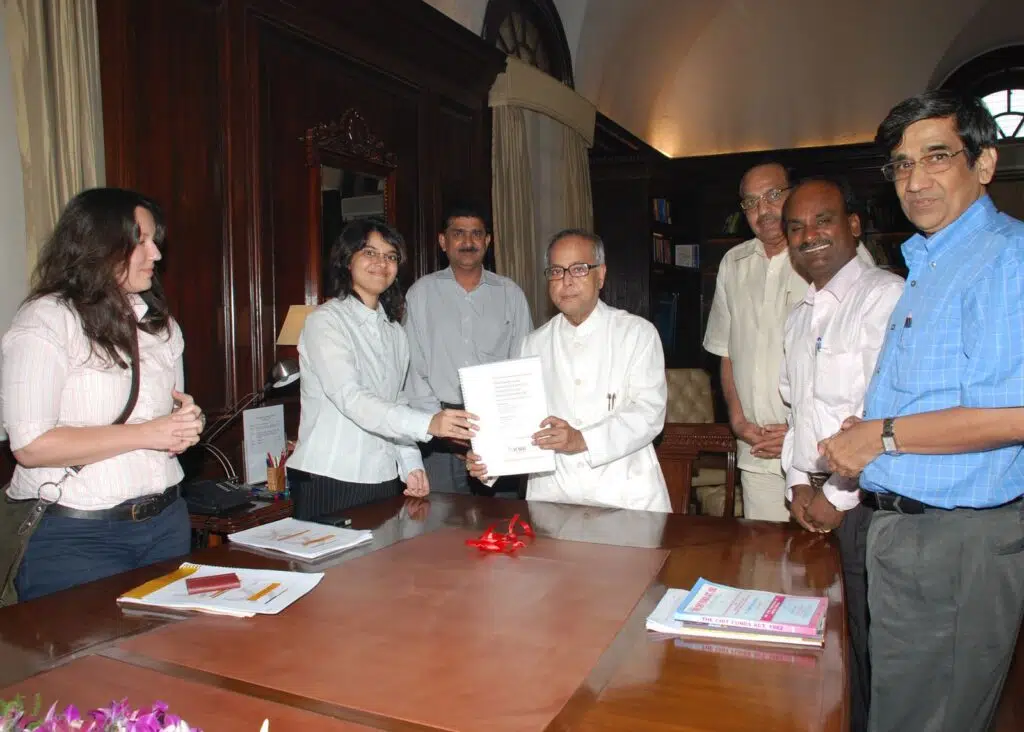 Could you share a short gist of the professional path you chose and the milestones along the way ?
When I was studying at the business school, the then Chairman, Mr Vaghul and Dr Nachiket Mor, along with established professors from international universities such as Harvard and MIT, conceptualized and set up research centres to tackle key development issues in India. As a student, I had the opportunity to listen to lectures from eminent scholars such as Prof. Abhijeet Banerjee, Prof. Ester Duflo (Harvard) and Prof. Antoinette Schoar from MIT. As they were setting up the research centres, we were approached by the centre heads for research positions at the centres. I joined the erstwhile Small Enterprise Finance Centre which focused on MSME research and development as a Research Associate in 2006. I worked on interesting research studies, notably on a pan India study on the chit fund industry and how the indigenous financing mechanism provided access for low income households and small enterprises to much needed credit. I had the opportunity to present the research report to the then Hon' Finance Minister, Mr. Pranab Mukherjee, and it received much appreciation. Our research findings were used as supporting evidence for requests for the legislative amendment and included in the report of the Standing Committee of the Lok Sabha in 2015-16. The Lok Sabha passed the Chit Funds (Amendment) Bill on November 20, 2019.
In 2014, the research centres were integrated under a common umbrella called IFMR LEAD. During this time, I took a more management oriented role, overseeing the field and primary data collection operations at LEAD. Thereafter, I moved into more strategic roles, leading innovations and the Digital Payments Lab under our Catalyst initiative. Currently, as Associate Director, I oversee the leveraging evidence function (collaborations, training, learning and communications, and innovations) and contribute to strategic decision-making at LEAD. I also act as the PAC (Policy, Advocacy and Communications) lead at IWWAGE, our initiative focusing on women's economic empowerment. As part of my growth trajectory, I have been able to build networks and also publish articles in my areas of expertise such as digital finance, open data and small business development.
How did the classes, pedagogy and network at IFMR GSB help navigate this stellar career path?
The business school provided a robust environment to inculcate independent thinking while also encouraging teamwork through group assignments. Such opportunities to work with teams and navigate the dynamics helped in my career where I had to work with and lead teams from different backgrounds and at varied experience levels. As students, we were expected to take initiative and drive our own outcomes, which I continue to imbibe and execute in my current role. We were encouraged to speak our minds and contribute to discussions which has helped in my growth as a leader.
A note from you that we could share with the IFMR GSB graduates of tomorrow?
I encourage the current students of the business school to really think out of the box, try new things and always be inquisitive. Student life provides the platform where personal values can be developed. What we learn and follow as students, will define our approach to life thereafter. So, while this is the time for play, focus on your goals and make sure you get the best out of the system and the experienced faculty members.
Looking back as an alum, are there moments of nostalgia, or an anecdote from your time at IFMR GSB that you cherish till date?
There are many unforgettable moments from my time at the business school. As a day scholar, I had to create multiple excuses (assignments, combined studies) at home in order to get permission to stay over at the hostel. I remember many occasions when we ventured out late at night to coffee shops and ice cream parlors to overcome stress from coursework.