Policymakers, researchers and civil society members meet in Raipur to discuss how to improve women's wellbeing and empowerment through policy-engaged research and programming
The Inclusion Economics India Centre (IEIC) at IFMR, in collaboration with the Government of Chhattisgarh, held a roundtable discussion on 'Women's empowerment and wellbeing – A Policy-engaged Research Perspective' at the State Secretariat, Mantralaya, in Raipur on 13th December, 2022. The roundtable was a part of IEIC's mission to have dialogues with policy makers based on evidence from recent studies.
Since 2017 IEIC has been doing research in multiple districts in Chattisgarh to understand the drivers of women's engagement with mobile phones. Conversations with policymakers in Chhattisgarh and other stakeholders in the region has been crucial, and has been key to ensure we create actionable and useful insights for policy making.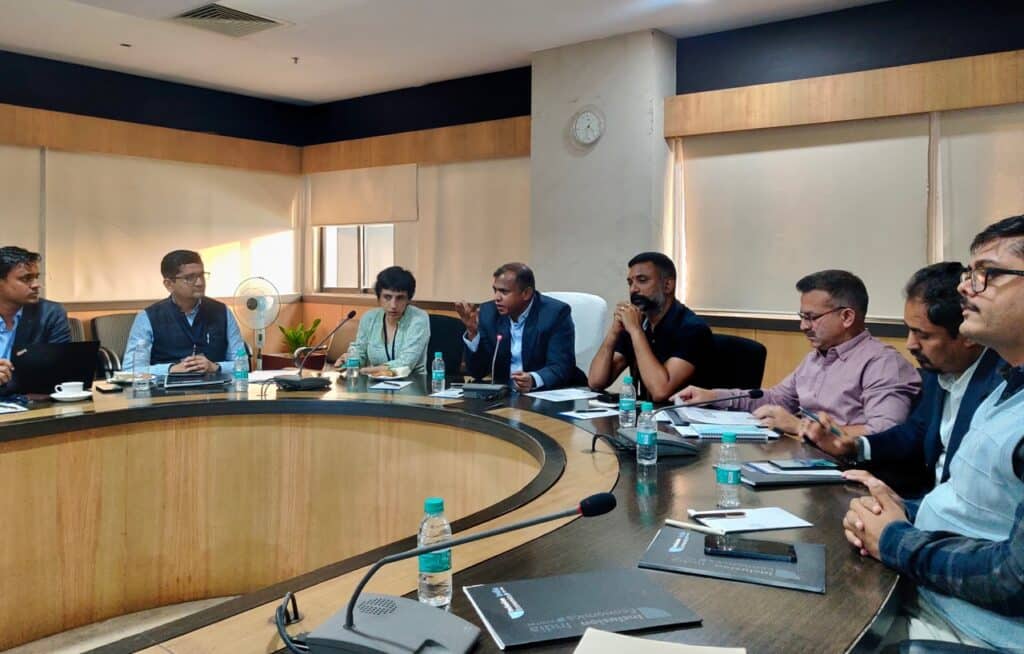 What do we know about women's access to and use of mobile phones in Chhattisgarh?
Mobile internet use among men was a little above 25% and a little below 10% among women (GSMA 2018). There is clearly a gender gap. We wanted to investigate if digital literacy training could help more women access the internet and relax norms around phone usage for women .. We conducted digital training camps on basic phone usage for women aged 18-45 years across 180 villages in Chhattisgarh. IEIC affiliated  researchers conducted a randomised control trial to understand the causal effect of such a training. Six months after the training, women's attitudes towards female phone usage were less restrictive among those who received training. An increase in phone usage by women was also observed. Overall, results indicated that training helped to close the gender gap in phone ownership and  showed increased social connectedness and improved mental health. 
Mor Awaaz programme
Following these training camps, over 10,000 women from rural Raipur district were enrolled in the Mor Awaaz programme, launched by the government of Chhattisgarh. Women were sent  weekly recorded calls that shared information on health and nutrition practices and government welfare schemes IEIC's research found this led to a 11 percentage point increase in women's knowledge about JSY amount from a 29 percentage base. Further,  there was an 8 percentage point increase in utilisation of the scheme (but not statistically significant) in the group that received the messages. 
Engaging policymakers to enable women empowerment
This roundtable was a significant step in engaging with the Chhattisgarh state government. With IEIC's work in the state falling under the purview of multiple state departments, the roundtable was an opportunity to communicate with various ministries on a single platform.  Shri. R Prasana, Secretary, Department of Panchayat and Rural Development, Government of Chhattisgarh, chaired the round table, and underscored the importance of research collaborations that inform policy making and noted IEIC's commitment to, and initiative in, engaging with the Government. Dr Rohini Pande, Professor of Economics and Director of the Economic Growth Center, Yale University and Harsh Jaiswal, Research Manager, IEIC presented research findings from Inclusion Economics' research work in the state related to mobile phone use and women's empowerment and well-being. 
The 3-hour roundtable was attended by senior officials from the Government of Chhattisgarh including Shri. Rajesh Singhi, Joint Director of the Women and Child Development Ministry, Ms. Kartikeya Goyal, Director of Panchayat, Shri Bhoskar Vilas Sandeepan, MD of National Health Mission and Ms. Alice Lakhra, Chief Operating Officer of the National Rural Livelihoods Mission. In addition, academicians from Hidayutallah National Law University, and professionals from civil society organisations, such as Transforming Rural India Foundation and Indus Action, who work in the area of women empowerment in Chhattisgarh also attended.
How did policy makers engage with the insights
Government stakeholders were interested in understanding how they could apply features of the training in digital literacy to other government training across the state. Kartikeya Gopal, Director of Panchayat, was interested in taking some of the insights that surfaced in the roundtable discussions to government training programmes at the district and block levels as well. The Ministry is interested in training beneficiaries on using mobile phones to access other government schemes, and would like to glean insights from Inclusion Economics' experience on digital literacy trainings. In addition, they were intrigued by the participation of women in the training and the programme and were eager for Inclusion Economics to share the methods used in facilitating women's participation.
Officials also expressed a desire for the weekly recorded calls to be translated to languages other than Chhattisgarhi, to broaden reach of these messages across states