Srinidhi Pennathur, SIAS Cohort of 2025 shares her story, of interweaving art with University life, set against the backdrop of the learning tapestry at Krea. Srinidhi, most recently performed at Krea University's Convocation 2023.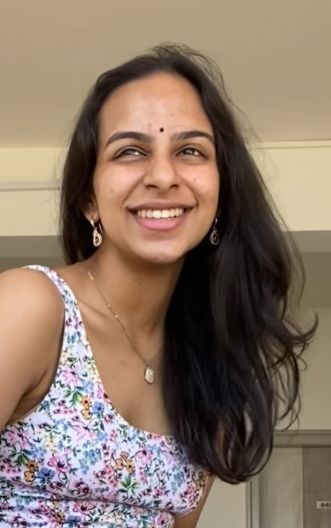 Srinidhi, you are a violinist and a vocalist; almost like a double major in the context of Krea; how do they co-exist in harmony and how does one affect and influence each other?
Within the context of Carnatic Music, I've found that being a violinist has only broadened my horizons as a vocalist, and vice versa. When I learn to sing a song that I perform on the violin, I develop a clearer understanding of the lyrics or 'sahithyam' and its meaning. Knowing the exact words that I play is really important because it delivers the intended emotion or bhava of the song, even though the words aren't being sung. It would be as though I were playing what I would sing, and that marks a good violinist. Singing also allows for more in-depth clarity with regards to nuances and intricacies that become much easier to play on the violin. Similarly, learning the violin has especially shaped my comprehension of core concepts in Carnatic Music such as Shruti, Tala and Laya Shuddha. (pitch, beat and rhythm) Learning to physically play in different speeds, with different 'pitches' has helped me sing the same with more ease and precision. All this to say that, instrument and voice co-exist in harmony because together they display a beautiful symbiotic relationship that constantly benefit the other.
You've spent a year at Krea; has the landscape and the learnings at Krea contributed to your journey as a musician?
The very arts-oriented environment at Krea has given me plenty of opportunities to showcase my talent on the violin and through singing. Performing different genres for different events has exposed me to the wonderful niceties of vast, yet soulful musical forms. I've also been able to further my understanding of my own art and reduce my stage fright. I would also say that the kind of discipline and work ethic that the academic trajectory of Krea demands in terms of punctuality and time commitment has urged me to make for myself a practice routine that is as, if not more time-consuming and intense.
What was it like for you to share/perform your music at the institution's convocation?
To be given the opportunity to perform in the presence of esteemed dignitaries, professors, graduates, parents and other guests for such a milestone event was truly an honor, to say the least. I was greatly humbled by the praise I received for this performance and thankful to the Vice-Chancellor for noticing my talent and allowing me to showcase it.
What is your take on the role of arts/artistes in building the culture of an institution and how would you like to contribute and inspire the incoming batch?
The thing about art is that, it's transformative. It contributes to building a culture by advocating self expression, bringing people from different backgrounds together, and acts a common medium of understanding between individuals. Furthermore, it is a way to learn about and explore its plethora of forms. I would like to contribute by representing Carnatic Classical Music whenever I can. To the incoming batch, I would tell them to take initiative and do things outside of their comfort zone. I would also want to reassure them that they will be okay, and that they will survive college. No seriously, they will!
To view Srinidhi's performance from Convocation 2023, please click here.