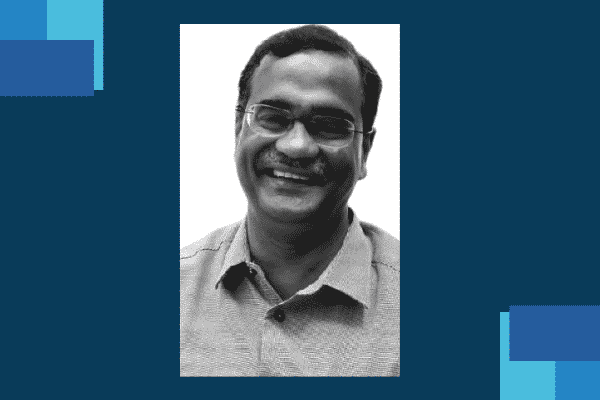 Announcing our next Vice Chancellor - Dr Mahesh Rangarajan
We are delighted to share the appointment of Dr Mahesh Rangarajan as Krea University's next Vice Chancellor, effective July 2021. Dr Rangarajan's appointment by the Chancellor of Krea University, Mr N Vaghul, comes after a rigorous global search launched by the University last year. The search was led by a committee co-chaired by Dr Vishakha Desai, Senior Advisor for Global Affairs to the President of Columbia University and Mr Kapil Viswanathan, Chairman of the Executive Committee of the Governing Council.
A scholar of global renown, Dr. Rangarajan has an MA and a DPhil, both from Oxford University, where he was a Rhodes Scholar. His wide experience in academia includes faculty positions as Professor of Modern Indian History at the University of Delhi and Professor of History and Environmental Studies at Ashoka University, where he previously served as the Dean of Academic Affairs. He has also taught at Cornell University, Indian Institute of Science and National Centre for Biological Sciences. His first book 'Fencing the Forest' was published in 1996 and the most recent 'Nature and Nation', in 2018. His co-edited works include 'India's Environmental History', and 'At Nature's Edge'. Having started his career as a journalist, he has also served in roles outside academia, including as the Director of the Nehru Memorial Museum and Library, New Delhi.
On his appointment as Vice Chancellor, Dr Rangarajan said, "It is my honour and privilege to accept this position, and join the extraordinarily talented faculty, staff and students of Krea University in pursuit of our shared mission. I will strive to uphold the high standards of innovation and excellence that Krea University stands for."
Krea University's current Vice Chancellor, Dr Sunder Ramaswamy will complete his tenure in June 2021 and will continue to be associated with Krea as Distinguished Visiting Professor of Economics. As the inaugural Vice Chancellor, Dr Ramaswamy played a key role in shaping Krea University in its formative years.
Dr Sunder Ramaswamy speaks on "Covid, Education and the Big Change", a virtual panel session hosted by The Indian Express
Vice Chancellor Dr Sunder Ramaswamy was a speaker in the panel on "Covid, Education and the Big Change", along with other Indian educators organised by 'IE Thinc' - an initiative by The Indian Express. Sharing his insights on the way forward for post-Covid education, Dr Ramaswamy highlighted the ongoing changes and what this means for the universities of today. Watch a recording of the session here.
IWWAGE hosts panel discussion on wages for housework
IWWAGE hosted a panel discussion in collaboration with King's College, European Research Council, FESDIG and Laws of Social Reproduction to discuss the implications of wages for housework for the collective mobilisation of Indian housewives. The panel was chaired and moderated by Bina Agarwal, University of Manchester and speakers included Ashwini Deshpande (Ashoka University), Mirai Chatterjee (SEWA), Prabha Kotiswaran (King's College London), Ritu Dewan (Feminist Scholar), Selma James (International Wages for Housework Campaign) and Soumya Kapoor Mehta (IWWAGE). Watch the recording of the discussion here.
Krea Inspire - a curtain-raiser to Krea Experience for incoming cohort
Students of the incoming undergraduate cohort of 2024 at Krea University interacted with Dr Raghuram Rajan (23rd RBI Governor, Advisor – Governing Council and Member - Academic Council at Krea University) and Dr Sunder Ramaswamy. A curtain-raiser to the 'Krea Experience', students learnt more about the vision for Krea and the world of opportunities that awaits them, in addition to an eclectic Q/A session with the thought leaders.
'Re-imagining omnichannel in the next normal', with Ram Narayan Iyer
In an engaging session with the students of Krea University, Ram Narayan Iyer (Worldwide Director - Digital Strategy and eCommerce at Microsoft) spoke about the need to start re-imagining the customer experience to maximise the opportunities we all have with the digital storefront. With people and businesses across the globe dealing and managing the implications of these unprecedented times, Microsoft's B2C marketing leader shared his perspectives on where the omnichannel strategy stands in today's world, in addition to sharing insights about Microsoft's futuristic visions.
Women in the economy workshop
The Indian Statistical Institute (ISI) Delhi Centre – with the support of the Initiative for What Works to Advance Women and Girls in the Economy (IWWAGE) – organised a workshop focusing on capacity-building among young women economists based in India. View the recordings here.
New episode of 'Gender Watch' by IWWAGE
The sixth episode of 'Gender Watch' by IWWAGE is out, presenting the latest news stories, data highlights, research and thinking on gender issues in India, particularly related to initiatives and interventions to empower women economically.


Assessing climate finance in India
Based on a webinar hosted by LEAD at Krea University on "The Landscape of Climate Finance in India: Issues with Access and Utilisation", this research brief looks into the issue of climate finance in India. Full of insights, read the report here.
Valuing water quality this World Water Day
Senior Research Fellow at LEAD at Krea University Sujatha Srinivasan highlights the importance of water quality in this piece. The blog draws on insights from an ongoing research study by LEAD and the Max Planck Institute for Research on Collective Goods on increasing awareness about arsenic contamination in rural Bihar.
Foreign Trade Review publishes paper co-authored by Dr Sunder Ramaswamy
Krea University Vice Chancellor, Dr Sunder Ramaswamy co-authored a research paper along with academics from the University of Hamburg and IIT Madras. Published in the Foreign Trade Review by SAGE Publications, the paper evaluates the performance of Free Trade Agreements (FTAs) by analysing the determinants of trade flows of Asian economies for a panel of 31 countries during 2007–2014 using a Gravity model. Access the paper here.
Social Science Research Network publishes impactful paper co-authored by Dr Anantha Nageswaran
Dr Anantha Nageswaran – Distinguished Visiting Professor at Krea University – co-authored a paper on "Impact Investing – An Assessment and Proposal for Reforms", published by the Social Science Research Network (SSRN). The paper attempts to dispel some of the misconceptions associated with impact investing and provide a more realistic perspective of its challenges. Access the paper here.
Live Wire publishes a personal essay by Prof Sarabjeet Dhody Natesan
The love, respect, and dignity accorded to pagdis by the Sikhs is visible in the visuals from the protest spaces on the borders of Delhi, writes Prof Sarabjeet Dhody Natesan (Associate Professor of Economics - Krea University). Read the article here.
'The Case for Women' shortlists case study by Prof R Sathyanarayanan
'Happy Self Publishing', a business management case study authored by Prof R Sathyanarayanan (Associate Professor of Marketing at IFMR Graduate School of Business – Krea University), has been shortlisted as one of the Top-6 Global finalist case studies in "The Case for Women" Global Case Writing Competition open to management faculty members around the world. Access the case study here.
Krea student curates first art show 'Perceptions' in Bengaluru
Shreyasi Patil, a second-year student at Krea University, has ventured into curating artworks, with her first show presented at the Rangoli Metro Art Centre in Bengaluru. Titled 'Perceptions', the art show featured 30 acrylic artworks by a solo artist, using mythology as a tool to describe emotions. Read more about Shreyasi and the art show here.
Announcements