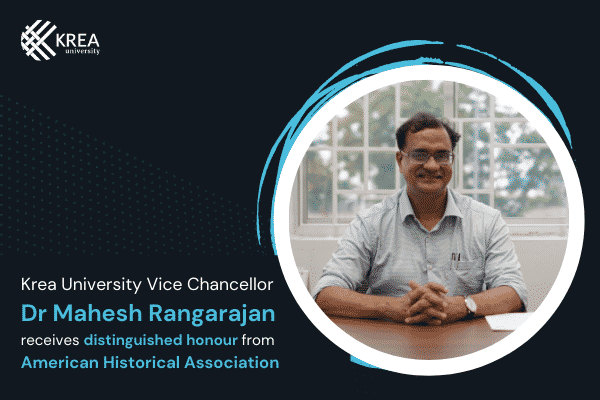 Vice-Chancellor Dr Mahesh Rangarajan receives distinguished honour from American Historical Association
Dr

Mahesh Rangarajan

, Environmental Historian, Professor of History & Environmental Studies and Vice-Chancellor of

Krea University,

has been recognised by AHA (American Historical Association) as The Honorary Foreign Member for a foreign scholar who is distinguished in his or her field and who has 'notably aided the work of American historians' for the year 2021. The award will be given out at the AHA's 135

th

annual meeting which will take place in

New Orleans

from 6-9

January

2022.
Dr Rangarajan is the fourth Indian to be chosen to be Honorary Foreign Member of the American Historical Association. The late Sir Jadunath Sarkar was the first. It is interesting to note that two of the four Indians Prof Ramachandra Guha and Dr Rangarajan are from Krea University.
Commenting on the recognition, Dr

Rangarajan

said,

"It is a privilege to be an Honorary foreign member of the Association. It is as much an accomplishment of my teachers, students and co-workers.

India

is a major site of scholarship on history in general and histories of and about the environment in particular. I hope this gives further fillip to such study and public engagement with knowledge. The central role of Universities, in my case Krea, in fostering a creative environment is vital."
Dr Meenakshi Gopinath joins Krea's Board of Management
We are delighted to share the appointment of Dr Meenakshi Gopinath (PhD) as a Member of Krea University's Board of Management. Dr Meenakshi Gopinath is the Founder and Director of WISCOMP (Women in Security Conflict Management and Peace) an initiative begun in 1999 to promote the leadership of South Asian women in the areas of international politics, peace, security and diplomacy. She is Principal Emerita of Lady Shri Ram College, rated among the best institutions of higher learning in India. Know more here.
Krea University launches Diploma in Advanced Finance & Analytics (DAFA)
Krea University has launched a first-of-its-kind Diploma programme in Advanced Finance and Analytics (DAFA). The course is designed for working professionals, in collaboration with USA's Northeastern University. The 320-hour programme will be delivered by global academicians and practitioners using multi-modal and interactive learning methods. The programme will enable professionals from a broad range of roles in finance, consulting and technology to visualise and build models using analytical techniques, evaluate analytical models and tools for decision making, and apply fintech tools and models to solve real-world business challenges. Know more here.
'Krea Dialogues' for the Krea community
The month of October witnessed the launch of 'Krea Dialogues', a space for faculty members across schools, divisions and research centres to share their research with the Krea community. Divided into three sessions, the first session was 'A proposal for interwoven environmental education (and research)' by Dr Chirag Dhara (Assistant Professor of Environmental Studies); the second session was 'E-Government and Entrepreneurship: Online Government Services and the Ease of Starting Business' by Dr Amit Das (Professor, Data Science and Information Systems) and the final session was 'Inequalities in Indian Science Practice' by Sayantan Datta (Faculty Teaching Associate at CWP).
Panel discussion on 'Battling Exclusions in STEMM++'
Members of the Krea UG faculty recently organised a panel discussion and Q&A on the dynamics of exclusion and issues faced in addressing them, in research, institutions, and wider knowledge production in science, technology, and related fields in India. The panelists shared their perspectives drawing on their experiences and expertise in biology, mathematics, science journalism, intersectionality, institution building and policy including securing gender-neutral bathrooms and bringing marginalised perspectives to the forefront.
Assessing the multidimensional impact of finance provided to microenterprises
LEAD is collaborating with the Michael & Susan Dell Foundation (MSDF) to conduct a two-year study to understand the impact of the Foundation's investments in institutions that primarily cater to the microenterprise segment. The impact assessment is particularly relevant as microenterprises form the bulk of the MSME segment, and have the potential to spur job creation and local growth and development. Know more here.
An information session on King's College London (KCL)
In an engaging session with Palak Behl, the International Student Recruitment Officer for India & Pakistan at King's College London, students of the School of Interwoven Arts & Sciences (SIAS) at Krea University learnt in detail about the education programmes at KCL, the academic and student life there, the admissions process for international students, and the potential career pathways. With KCL as a Krea partner, the session also shed light on the world of opportunities available for a Krea student.
Impact of COVID-19 on women in informal work across South Asia
Sona Mitra, Principal Economist at IWWAGE, joined a panel of industry experts and development specialists in a session put together by Saida Waheed Gender Initiative in collaboration with Women in Economics and Policy to speak about the multiple impacts of the pandemic on women informal workers in South Asia. The session featured immersive policy-driven commentaries which on implementation could protect female labour workers in the larger picture of slow economic recovery and unemployment. Tune in here.
LEAD study finds low participation among rural women entrepreneurs in E-commerce, but they show willingness to adopt
An upcoming study from LEAD at Krea University is trying to understand the digital readiness of rural women entrepreneurs in the larger backdrop of technological advancements. Initial observations from a scoping exercise undertaken in Kerala and Rajasthan revealed that despite existing gender-based barriers and institutional social control, women-led businesses are willing to successfully adopt digital innovations and navigate the online e-commerce space. Read it here.
The COVID-19 pandemic and its impact on mental health services: The provider perspective
An article published in the Journal of Public Health (Vol. 43) highlights findings from a study by LEAD at Krea University and Schizophrenia Research Foundation (SCARF). Supported by the Oxford India Centre for Sustainable Development at the University of Oxford, the study documents the challenges encountered by providers at a critical juncture in the pandemic and highlights service-level adaptations that emerged as a result of complex field-level challenges. Read it here.
UNESCO publishes book chapter on transformative education for climate action, co-authored by Krea professor
On the eve of the United Nation's COP26 Meeting in Glasgow, 'Curriculum and Learning for Climate Action: Toward an SDG 4.7 Roadmap for Systems Change' - a book by UNESCO on transformative education towards climate action - was launched. The book features a chapter titled 'Why Transformative Education Must Address the Problem of Endless Exponential Economic Growth' co-authored by Dr Chirag Dhara, Assistant Professor of Environmental Studies at Krea University. Read it here.
IFMR GSB professor at the '2021 FMA Annual Meeting'
IFMR GSB professor - Dr Praveen Bhagawan - was an important part of the recently concluded '2021 Financial Management Association Annual Meeting'. As a discussant, Dr Bhagawan interacted with academics from King's College (London), Durham University, and the University of Cambridge, UK about their paper titled 'Local Boy does Good: CEO Birthplace, Identity and Corporate Social Responsibility'. He also chaired a session at the conference, sharing his insights on 'Corporate Bonds and Debt'.
IFMR GSB student grabs top honours in AITA National-level Tennis tournament
First-year MBA student Sai Avanthika Revanur was a Runners Up at the 'Women's Doubles in the AITA Women's 1 Lac National Level Tennis Tournament' held in Peter Burwash International - Padukone Dravid Centre for Sports Excellence in Bengaluru last month. A Commerce graduate from MOP Vaishnav College and an alumni of DAV Senior Secondary School Mogappair (Chennai), her first tryst with tennis was at the age of 6. She has been competing at the National-level for more than 10 years now.
'The Indian Journal of Labour Economics' publishes paper, co-authored by Krea professor, on predicament of educated urban dalit youths in Delhi
Dr Rama Devi, Teaching Fellow at Krea University, has co-authored a paper titled "Negotiating Exclusion and Precarity: Marginalised Urban Youth, Education and Employment in Delhi" that has been published in the latest edition of The Indian Journal of Labour Economics. This paper examines the predicament of educated youth belonging to socially marginalised groups in realising their aspirations in the city of Delhi. Read it here.
Second-year MBA student recipient of the HUL T-Thomas Scholarship
We are delighted to announce that second-year MBA student, Akash Bahl, has secured the HUL (Hindustan Unilever Limited) T-Thomas Scholarship for the academic year of 2021-22! This scholarship is awarded to second-year MBA students based on their academic performance at the end of Term-3. The scholarship amount is INR 1 Lakh.
Announcements