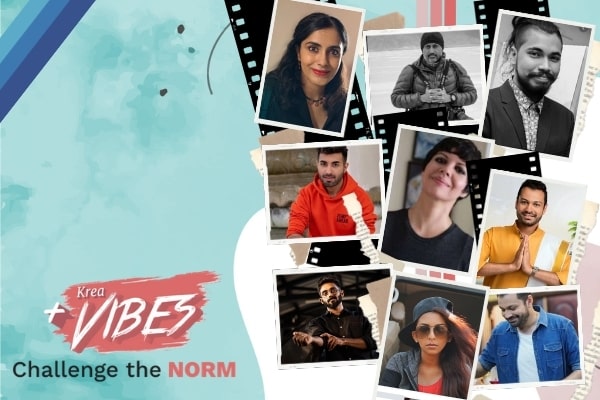 Krea+Vibes is back with a new season!
Season 2 of Krea+Vibes is all set to take place every Saturday featuring new-age celebrities, young visionaries, and individuals who chose professions outside the 'normal'. A student well-being initiative, Krea+Vibes serves as a perfect platform offering positive reinforcements to students through inspiring conversations with personalities from different fields and backgrounds. Krea+Vibes, much like most projects outside the classroom at Krea, is an interconnected attempt to prepare students with confidence, awareness and agility for the outside world.
Bringing stories of success, failure, passion, and aspirations to the spotlight, Krea+Vibes will be conducted in an interview format with guests engaging in conversation with Krea's Undergraduate students starting 19 June 2021.
This season's line-up includes illustrator Santanu Hazarika, writer Janice Pariat, standup comic Abishek Kumar, dancer Aarabi Veeraraghavan, photographer Manish Lakhani, chef and musician Rakesh Raghunathan, singer Abby V, and many more. To catch these live sessions, stay tuned for more information on Krea University's official Instagram page - @Kreauniversity.
IWWAGE hosts gLOCAL Evaluation Week 2021
The Initiative for What Works to Advance Women and Girls in the Economy (IWWAGE) at LEAD organised two panel discussions that are a part of the 'gLOCAL Evaluation Week 2021'. Convened by the Global Evaluation Initiative (GEI), the two IWWAGE-led panel discussions focused on 'Building forward better' by ensuring that the evidence being generated and the data being collected are responsive to the needs of women and girls. The panellists on the first day featured Divya Nair (IDinsight), Kaliat Ammu Sanyal (IWWAGE), Muzna Alvi (IFPRI), and Vineet Bhandari (Dalberg). The panellists on the second day were Ashwini Deshpande (Ashoka University), Dipa Sinha (Ambedkar University) and Yamini Atmavilas (Bill & Melinda Gates Foundation). Watch the recordings here and here.
Prof Joya John participates in a panel discussion on liberal arts education and interdisciplinary learning
Prof Joya John, Assistant Professor of Literature at Krea University, was a panellist at 'Career Counselling 2021' - an initiative hosted by The Hindu EducationPlus. The webinar featured

speakers who are subject matter experts from academia and industry representatives. Part of a series, the webinar offered concise and insightful information on courses that students can consider with a focus on trends in higher education and the industry

. Watch the recording of the session here.
New Faculty appointments at Krea
We are glad to announce that Prof Vinod Kumar (Associate Professor of Finance, IFMR GSB); Prof Jayasankar Ramanathan (Associate Professor of Marketing, IFMR GSB); Prof VN Rajesh (Associate Professor of Data Science and Information Systems, IFMR GSB) and Prof Gayathri Sampath (Associate Professor of Strategy, IFMR GSB) have joined Krea University!
The invisible women in India's labour market
Ruchika Chaudhary, senior research fellow at IWWAGE, delves deeper into the factors impacting women participation in the workforce and the need to invest in robust data and evidence systems to better measure and count women's unpaid work, and design gender-smart policies and programmes for women's economic empowerment and overall well-being. Read more in this coverage in Hindustan Times.
Analysing the constraints to women's economic participation in the context of pandemic
As part of the project undertaken by the Indian Statistical Institute (ISI) and IWWAGE, a set of four briefs have been developed to understand the challenges faced by women while engaging in remunerative economic activities. The briefs also evaluate the existing programmes with a gender lens, that aim at unleashing women's economic potential fully in India, and offer policy recommendations. As the pandemic and subsequent lockdowns have impacted women adversely, these briefs also assess the gendered experience of the crisis, on the lives and livelihoods of women, including their physical and emotional well-being. Read the briefs here.
Promoting enterprise growth with research-driven solutions
Sharon Buteau, Executive Director of LEAD at Krea University, joined Ashwin Chandrashekar, Vice President - Global Alliance for Mass Entrepreneurship (GAME), for a conversation on the role of research in developing a vibrant Micro, Small and Medium Enterprise sector in India. The discussion focused on strategies for collecting better data to understand the MSME sector in India and developing tailored financial and other solutions for different segments of enterprises. Watch the recording here.
LEAD at Krea University presents findings at the 5th Dvara Research Conference
Fabrizio Valenti, Vinith Kurian and Shashank Sreedharan from LEAD at Krea University presented findings from a recent study on household financial decision-making through a migration lens. The study bridges an important gap in the existing literature on the factors that influence financial decision-making among migrant households. Watch the conference proceedings here.
SciPhi Web publishes article on Alternative Intelligences authored by Prof Srajana Kaikini
Krea faculty Prof Srajana Kaikini -- Assistant Professor of Philosophy, Humanities & Social Sciences and Literature & the Arts -- has authored an article titled 'AltI before AI : Reframing the Discussions on Artificial Intelligence' exploring the term Alternative Intelligences or AltI and discussing the true meaning and function of Artificial Intelligence or AI. The article was published by SciPhi Web, a scholarly journal curated as a repository of plural reflections and research in gaming, scientific and philosophical cultures. Read the article here.
Solution by Krea students wins Eco-Crisis Management Competition
'Trash Talk' - a solution by Krea Undergraduate students, Smriti Venkatraman and Svetya Nair, won first place at the Eco-Crisis Management Competition organised by the Gandhian Centre for Philosophical Arts and Sciences at Manipal University. Submitted as a video pitch, the solution focuses on augmenting solid waste management in Bengaluru through a range of sustainable initiatives to specifically manage the organic and plastic waste in the city.