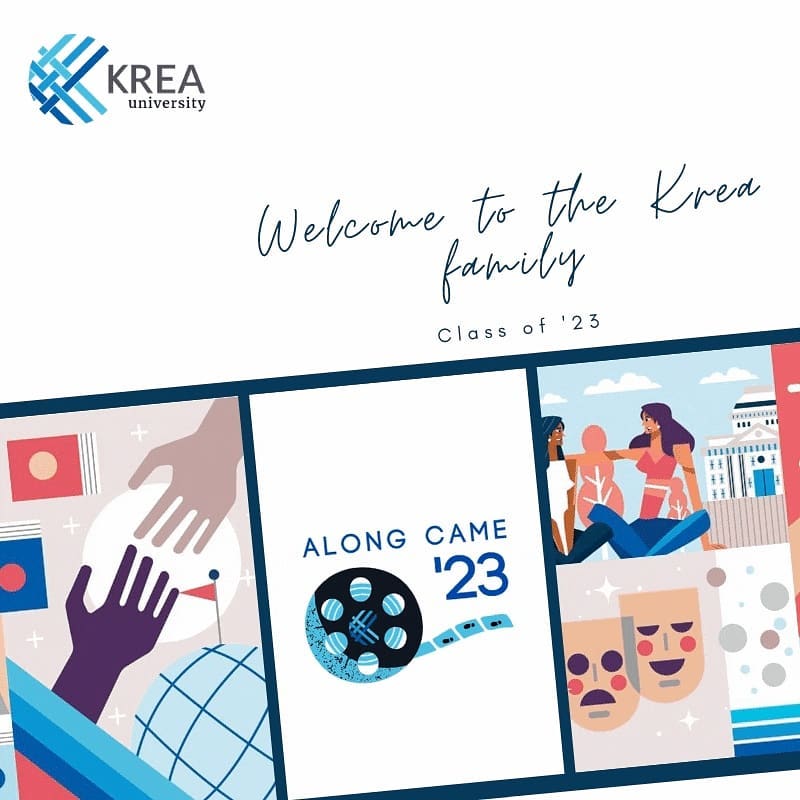 Krea University welcomes its 2nd cohort of undergraduate students
The School of Interwoven Arts and Sciences at Krea University welcomed 144 talented students into the second cohort of the undergraduate programme.

Nobel Laureate and co-founder of J-PAL, Dr Esther Duflo, was the special guest of honour and addressed the students on this momentous occasion.

The inaugural ceremony preceded the virtual five-day interactive orientation event which brought together the incoming cohort, sophomores, faculty and eminent speakers.

The orientation programme also witnessed sessions by celebrated activist Kalki Subramaniam and international artist Jacob Boehme. T

he classes for the new cohort commenced online from the 1st of September.




NEP 2020- Transforming Narratives
The Krea University and LiveMint collaboration captures compelling narratives on NEP 2020 from luminaries and members of Krea Governing Council. The narratives discuss the complex task that lies ahead, with interwoven issues of access, modernization, skills development and diversity.


'The Path of Haiku' with Geethanjali Rajan
A special workshop by Geethanjali Rajan was part of the WOC Faculty Bootcamp 2020. Geethanjali has been practicing haiku for over fifteen years and is the haiku editor at cattails (United Haiku and Tanka Society).


IFMR GSB welcomes the L&T C EMBA cohort of 2020-23
IFMR GSB at Krea University, welcomed the new cohort of L&T Executives to the EMBA program 2020-23. Dr Sunder Ramaswamy, Vice-Chancellor at Krea University and Dr Shobha Das, Dean of IFMR GSB, personally welcomed the new executives. Other distinguished guests at the inauguration event included Mr Ramkishore, Vice President & Head – Divisional Corporate HR, L&T Construction and Mr Karthikeyan TV, Executive Vice President – Finance and Accounts, L&T Construction.


A webinar on building inclusive organisations
Sharon Buteau, Executive Director at LEAD, was part of a panel discussion organised by Arthan Careers. The discussion, revolving around building more inclusive organisations, explored gender dynamics and women's empowerment in the development sector and the way forward.


Beyond the classroom- the skills to become a potential employee
In an insightful interaction with the students of IFMR GSB, Lakshmanan (Laks) Krishnamoorthy- VP Engineering & General Manager, Navis shared his perspectives on transformational leadership while also allaying concerns surrounding the leap from classroom to employment.


Visual merchandising- a key marketing tool in retail
Radhika Subramanian, Head - Marketing, Retail Operations, and Customer Service at India Circus by Krsnaa Mehta (A Godrej Venture) interacted with the students at IFMR GSB with deep insights into the world of visual merchandising and shed light on the storytelling nature, principles and process of this key marketing tool in retail.


Credit risk- the past and the future
In a session packed with insights, Swetha Kasthurirangan- Head of Wells Fargo India Consumer Credit Risk, interacted with the students at IFMR GSB and shared guidance for entry into the domain of Credit Risk.


Emergence of sports industry and its future
Deep Mukherjee, shared key insights with Krea students on the emergence of sports industry. He highlighted the need to inculcate sports into the curriculum as a wholesome subject and not a supplement, and how it helps in the holistic development of a student.


Business Readiness Scorecard for Women Enterprises
IWWAGE published the Women Business Readiness Scorecard, a diagnostic tool developed in collaboration with researchers at LEAD, to understand the factors affecting the business readiness of women-led enterprises in the handlooms and handicrafts sector of India.
Women in State Policies Series
The IWWAGE Policies and Programmes for Women and Girls in India series presents a mapping of schemes and policies that exist at the state level targeted at women and girls, and show thereby, state intention of addressing one or more key outcomes to advance gender equality. Presenting, the first in the series, Bihar.


A new study on impact of COVID-19 on microenterprises in India
A new, collaborative study by GAME and LEAD at Krea University seeks to capture the impact of COVID-19 on microenterprises in India, over a period of six months. The study captures key trends related to the impact of COVID and government-mandated lockdowns on business operations, livelihoods, employment, and the income of nano and microbusinesses. The dynamic and interactive dashboard captures insights and data from the first round of the survey.
The Economist cites impactful research paper by IFMR GSB faculty
The Economist recently cited a research paper by IFMR GSB academician Sumit Mishra, Assistant Professor, Economics and Data Science along with his co-authors Naveen Bharathi, Deepak Malghan and Andaleeb Rahman. Sumit's research focused on the first ever large-scale snapshot of urban residential segregation in India at the neighborhood-scale.
IFMR GSB faculty co-authors the book 'Operations Strategy'
"Operations Strategy", a book by Prof N Chandrasekharan of IFMR GSB at Krea University, co-authored with Prof Chandiran P has been published by CENGAGE. The book with its practical approach will add immense value not just for students but for practitioners as well.


Can COVID-19 change social protection in India for the better?
COVID-19 has exposed the glaring holes in India's social welfare delivery system. LEAD's Raka De and Anjani Balu pen down this piece on the deficiencies in the current architecture and suggest how the pandemic may prove to be an impetus for strengthening last-mile delivery of welfare benefits and services in India.
Students recreate Krea University campus through a virtual spectacular
With 800 hours of development and able support from the University's Media Lab, four young Krea students have created a virtual tour of the state of the art Krea campus, using Minecraft tool.
Special shout out to Krea students -- Arnav, Nikhil, Priyam and Shreya for their relentless efforts.


IFMR GSB student committee presents pan India contest 'Entangled'
600 participants from across India geared up to compete, make an impact and win the contest 'Entangled'. A unique case study competition hosted by Sanchalan - the IT and Operations Student Committee from IFMR GSB, challenged graduates with prioritization and resource allocation skills during crisis.
Markaholic, IFMR GSB Marketing Committee hosts 'Markaz'
Markaholic, the Marketing Committee of IFMR GSB, Krea University organized a 5-day long marketing event, 'Markaz'. The event aimed to provide exposure about marketing to the first-year students in a non-academic manner where they were required to use their knowledge and creativity to answer a marketing quiz and four other rounds which were to test their marketing creativity.
IFMR GSB students bag CFA Institute scholarships
IFMR GSB students, Akhil Ranjan Gupta and Dharan Kumar Somani from the class of MBA 2019-21 secured the prestigious CFA Institute scholarships.
SIAS student on the global list for young talent in technology
With a unique solution for the battle against COVID-19, and competing against 58 young teams from 32 countries, Arnav Jalan, 2nd year SIAS student and his team have proposed, pitched and successfully bagged the Prospect 100 Global Tech Competition. Arnav and team presented to head judge, Steve Wozniak, co-founder Apple in a LIVE pitch. Arnav will also find his name on the 'Prospect 100 for Tech' where 100 best young talents from across the world of technology are recognized.