We are delighted to share the list of medal winners and awardees of the Dean's Merit List at IFMR Graduate School of Business (IFMR GSB), Krea University for the MBA cohort of 2020.
Medal winners (cohort of 2020):
The medals are awarded to students based on their academic performance, as well as extracurricular activities. Students who are ranked in the top 5% in their respective cohort on the basis of their academic performance (CGPA) at the end of the second-year are included in the Dean's Merit List.
| | | |
| --- | --- | --- |
| Medal | Criterion | Student Name |
| C.M. Kothari Medal | 1st Rank | Venkidesh Harikumar |
| A. Sivasailam Medal | 2nd Rank | Prabhu G |
| A.M.M. Arunachalam Medal | 3rd Rank | Anjula Singh |
| H.T. Parekh Medal | best all-round performance* (subject to CGPA at least 3.5) | Aman Sharma |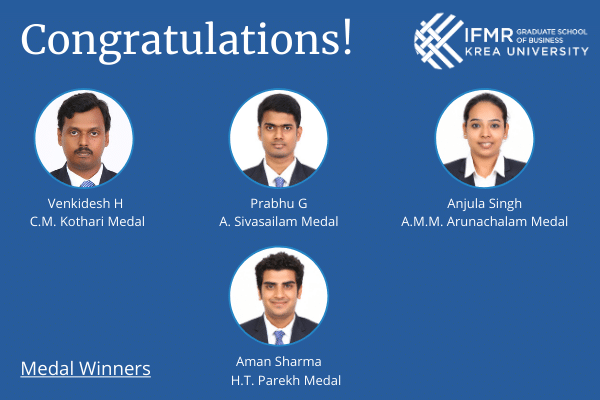 Dean's Merit List:
| | | |
| --- | --- | --- |
| Merit Order | Student Name | Final CGPA |
| 1 | Venkidesh H | 4.03 |
| 2 | Prabhu G | 3.99 |
| 3 | Anjula Singh | 3.90 |
| 4 | Bharath P | 3.80 |
| 5 | Apoorva Arora | 3.78 |
| 6 | Samardeep Verma | 3.74 |
| 7 | Radhika Chaudhry | 3.72 |
| 8 | Sagarika Raja | 3.71 |
| 9 | Sowmya Ramakrishnan | 3.71 |