N Vaghul is the former Chairman of ICICI Bank Limited, and was instrumental in setting up ICICI Securities, an Investment Banking company. He also pioneered the concept of Credit Rating in India by setting up CRISIL. He was the Chairman, the Board of Governors of IFMR, a Business School with an array of research centres engaged in a variety of economic and social research for around 30 years. ACME (Academy for Management Excellence) was an initiative to bring state-of-the-art management thinking into the Indian industry by IFMR in collaboration with the University of Michigan.
Awarded a Padma Bhushan by the Government of India in 2009, his many other accolades include Businessman of the Year by Business India, Lifetime Achievement Awards from the Economic Times, the Ernst & Young Entrepreneur of the Year Award Program and the Bombay Management Association.
N Vaghul has also served as a Director in many major Indian companies including Wipro, Mahindra & Mahindra, Apollo Hospitals and Mittal Steel. He is also the Chairman of Give India, an online philanthropy platform. He received the award of Corporate Catalyst — Forbes Philanthropy Award in 2012 for his active involvement in philanthropy causes.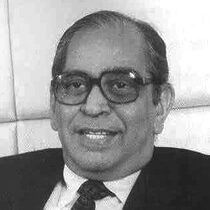 Chancellor
Chairperson, Governing Council