Overwhelmed, exhilarated, excited, these are the three words Manvi uses to express her jubilance on the admittance offer from Carnegie Mellon University's School of Computer Science to the Masters of Educational Technology and Applied Learning Science (METALS). Manvi chose Computer Science Major at Krea, SIAS and has also been a Krea student ambassador.
Manvi has always been a curious young student, and it all started as early as Grade 6 when she asked her mother what's the best education she could receive, and the best university. With a desire to always experience the best in education, Manvi's path took her through various milestones, one being Krea and now onto another at Carnegie Mellon University (CMU).
Manvi has always been passionate for education and tech and views this as a stepping stone in her journey.
Lessons from the journey for future aspirants
From her own personal experience, Manvi pulls out few pages for future graduates aiming at higher education
Believe in yourself and aim as high as you desire
Circumstances may make you feel less confident, but always know there is nothing impossible to achieve
Start your research in the 2nd year of Undergraduation
It's an ocean of courses and specialisations out there, explore well but don't get confused
Plan it well, also look for backup universities apart from your main ones
Be prepared, keep a good buffer for deadlines. E.g- If the application is due in December, attempt and close GRE by July.
Plan it all but do not over plan it, give yourself time to breathe
Pathway and Stepping Stones
The Internships
Manvi feels that all her internship experiences collectively helped her be where she is today. Right from the Teach for India experience in the middle of the pandemic to being a Tech Business Analyst at Minfy Technologies during the summer and a Tech Content Curator once she was rehired, it all were jigsaw pieces falling into place, through the skills learnt and the projects tackled.
One of the projects closest to her heart at Krea was her internship with IBM. " We applied all the facts we had learnt into the project. We had to create a questionnaire using NLP technique to tap into human consciousness to gauge their learning style and the results were used on various IBM learning platforms. We used what we learnt in Computer Science, a course in Brain and Behaviour and Design Thinking. It was a reflection of my Krea journey itself, of applying things in your real life, truly interwoven."
The Krea Experience
"Three years of interaction with the faculty and not just from the Department of Computer Science but all across really helped. Conversations play a subtle but important role in what you do and what you decide to do "

Manvi Teki
Manvi emphasises how the amalgamation of these inputs and exposure helped her shape her thoughts and choose her path forward.
Manvi didn't step into Krea with a fixed mindset, she navigated the journey with open thoughts. But everything fell into place at Krea- the pattern of assignments, the coursework, and the midterms, among others. While a lot of students struggle a bit as they head to an international university, Manvi believes spending three years at Krea with a similar pattern gives her leverage. A jumpstart to a smooth transition.
"The whole research mindset, writing-intensive three years, helped me put into words my SOP. The skills I picked up through courses like Design Thinking have really helped. These have all molded me to adjust and adapt better, made me comfortable with the concept of uncertainty, which I do not fear anymore."
The Co-curriculars
Manvi has always been one for extracurriculars and believes they help shape the mind and individual one is. "You don't become you just because of academics. 70% of who I am today is not because of academics, what I learnt was out of classrooms how to speak, how to read emotional cues", adds Manvi
Manvi aims to work in a space connecting humans with tech and even though she hasn't done courses in Psychology but one, her time training in theatre has helped her understand social cues and the human psyche.
Way ahead
"Many people believe that creativity is in the Arts but there is creativity in Science too, the phone is a creative product."
Manvi wants to create the most human designs possible using tech, ones that could help a large number of people. She aims to address the massive gap between advancements in technology to their translation to community and people. Her long term vision includes working for equity in education by ensuring tech reaches students across the social spectrum and in ways that can be utilised by them for learning.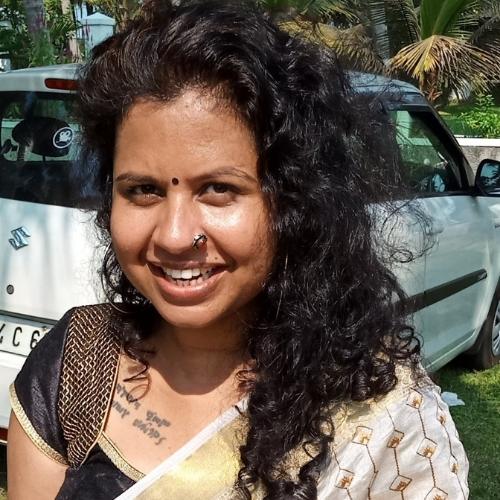 Lekshmi Gopinathan
reports, from the Communications Desk