"Krea has given me the confidence and courage to face the world, to make the change I want to see."
Pooja Basutkar is a believer of dreams, of spreading out wings and soaring high. An aspiring entrepreneur and an author in the making, Pooja enjoys penning down pieces of poetry and verse, and looks forward to publishing a manuscript of her own in the future.
This School of Interwoven Arts and Sciences (SIAS) graduate is now gearing up for her professional journey as she joins Karkinos Healthcare as an Associate – Business Development. When we reached out to Pooja to have a conversation on this new chapter of her life, Pooja was bubbling with enthusiasm and therein unravelled Pooja's journey at Krea, a journey interwoven with experiences, revelations and achievements.
The Road Ahead
"I am extremely excited," says Pooja who is raring to go and is exhilarated at the path she has chosen for career progression. Being a start-up and a pioneer in the field, Pooja is confident of the experience she is set to receive at Karkinos. Karkinos Healthcare is a purpose- driven technology-led oncology platform focused on designing and delivering bespoke solutions for cancer care. Led by a blend of globally acclaimed medical professionals and technologists, Karkinos aims to create 'cancer centers without walls' with a primary aim of addressing the accessibility or affordability gaps in cancer care.
"I will be part of the planning and outreach team, involved in advertisements, partnerships with various collaborators, supporting in building a plan and implementing them. We are also working on taking Karkinos to the global platform."
The Opportunity
"The process was very smooth and was facilitated by the Career Services Office (CSO) at Krea. I was really scared and nervous but realised later on, there was no need to."
Pooja adds that Karkinos was well aware of Krea's pedagogy and Interwoven Learning methodology. Following an an in-depth assignment and two rounds of interviews, Pooja was offered the opportunity at Karkinos Healthcare"Each subject I explored at Krea aligns with the career I have chosen, from report writing to behavioural economics. Psychology has trained me to interact with diverse stakeholders and I look forward to translating these learnings at Karkinos Healthcare," Pooja says.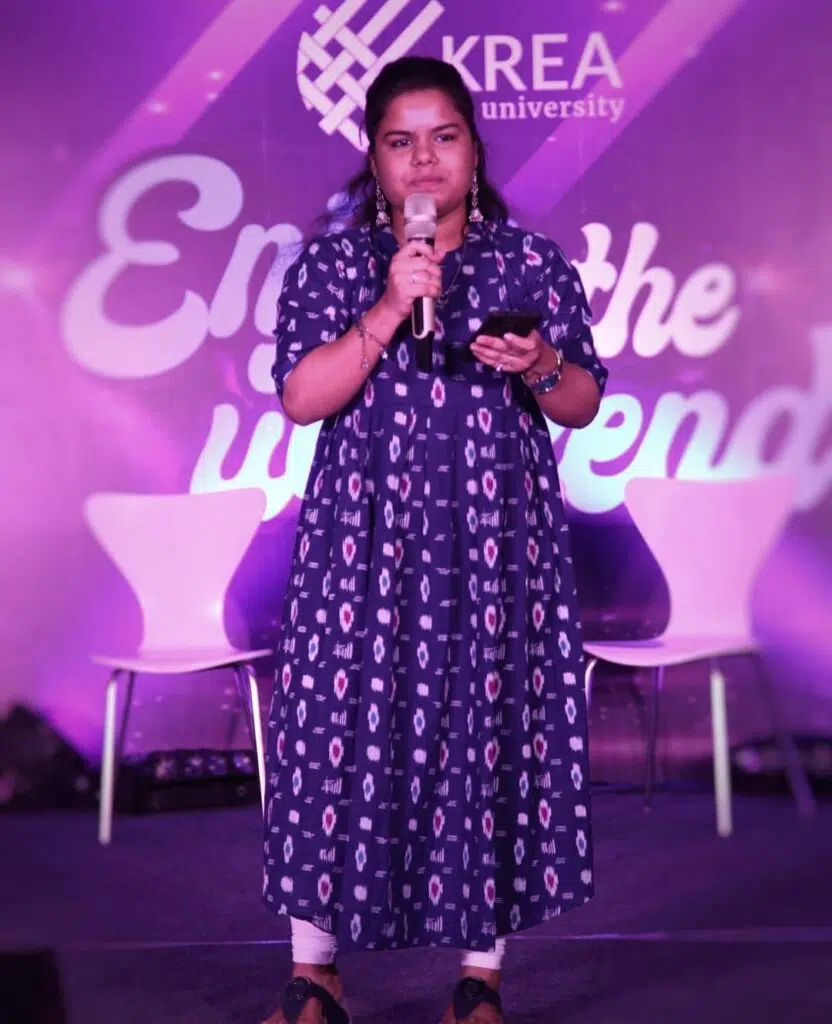 It All Began at Krea
A Psychology Major, Literature Minor and with a concentration in Economics, Pooja believes that the Krea experience has transformed her and she owes it much to the academic rigor and multiculturalism. "I think everything I did in Krea was a stepping stone which led me to this opportunity. Even my first internship with School Initiative for Mental Health Advocacy (SIMHA), a mental health institute in Mumbai, allowed me to deep dive into every function involved – from outreach, social media, content creation, to partnerships. All these experiences have built me and I know whatever I will be doing in the future, it will be something I may have done in the past, and even if it's a new situation I can still learn and do it. Krea has made me confident of my own abilities and skills. The Pooja that entered Krea was very naïve. I was just out of school. Krea has made me confident, made me creative, it has made me dream the impossible."
Activities which didn't seem significant at that point now take the form of building blocks. Pooja adds that in retrospect, being a writer and director for Nukkad Natak, performing in plays, reciting poetry on stage, each of them helped her translate her confidence into interviews and assignments.
In Pursuit of a Dream
"My end goal is to do something significant in the mental health and medical system landscape of India. I want to start an initiative that focuses on introducing mental health support facilities to the underprivileged in schools."
The pandemic showed us how broken the healthcare system in India, especially the awareness around mental health. Pooja firmly believes her experience with a startup such as Karkinos Healthcare will provide her insights into how start-ups work and how a vision is built from scratch.
Of Moments and Memories
" There is so much from Krea which I will keep close to my heart, but a memory does stand out. For a literature class I had written a short story during the 2nd year. The next year when the next cohort was doing the course, our faculty who I admire so much remembered my story and showcased it as a reference to them, emphasising on the storyline and other aspects. When my juniors approached me in the dining hall to discuss the story, I was pleasantly surprised. It was a proud moment to be appreciated by a mentor who I look up to and who motivates me to write. This was very special."
We look forward to Pooja's journey as she pursues her dreams and strengthens her vision, and very soon we hope to pick a book off the shelves that's authored by Pooja Basutkar.