Interview With Dr Ameesh Samalopanan, Krea University's First PhD Graduate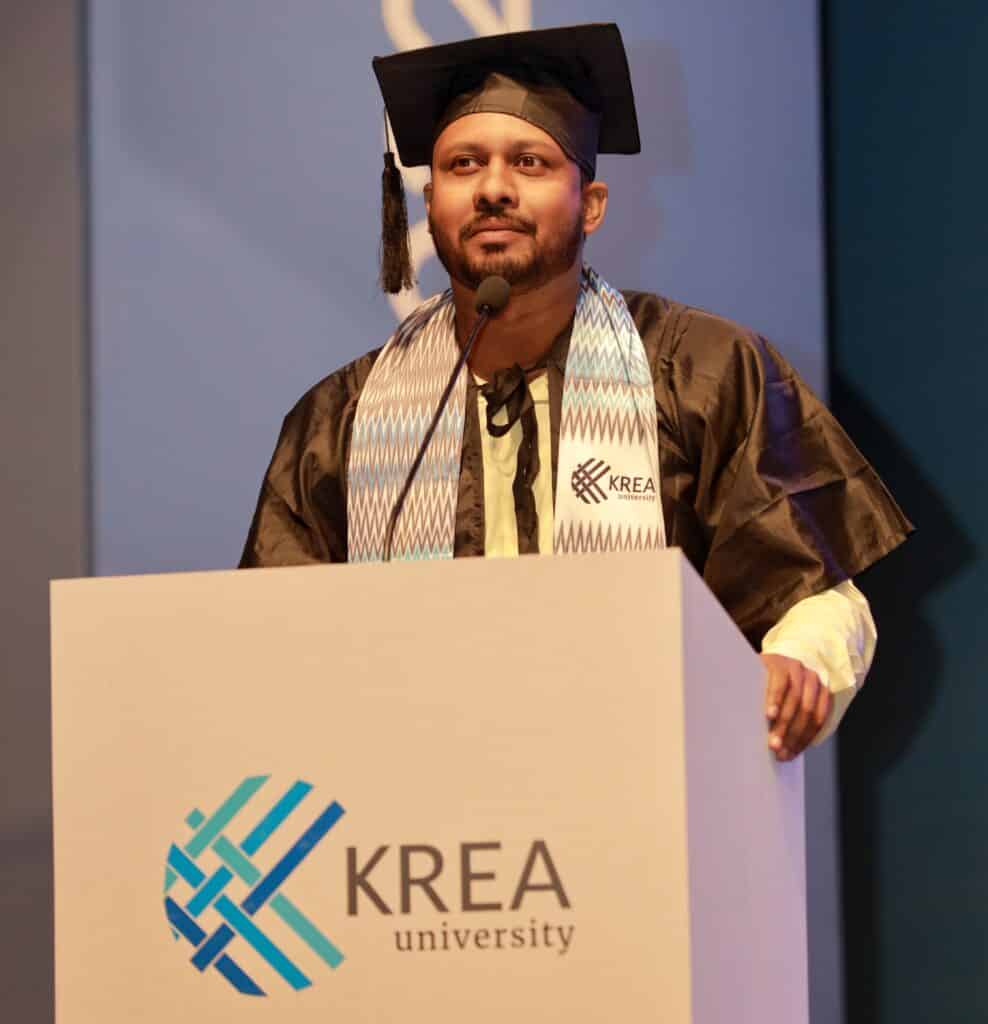 In July 2022, Krea University added one more name to its league of distinguished alumni – Dr Ameesh Samalopanan became Krea's first PhD scholar awarded a doctoral degree. Under the supervision of Prof Vijayalakshmi C Balasubramaniam, IFMR GSB, he successfully defended his thesis on "Exploring Dignity at Workplace: A Mixed-Method Study". Dr Samalopanan now works as an Assistant Professor in the Department of Management Studies at NALSAR University of Law, Hyderabad.
Inspired by his achievement, we reached out to him for an interview, hoping for a glimpse into his world of scholastic proclivity and research pursuits and what we have are candid insights into his PhD journey, his motivation and goals, the rigour and gaiety of his university days, his pinnacles and vicissitudes, as well as what this major academic milestone represents for his overall career trajectory. 
When and how did you decide to pursue a PhD? Was it a difficult decision to make? How did your PhD fit into your overall professional growth trajectory?
 Like most good things in life, the decision to pursue PhD was something that gradually grew upon me. I was a psychologist by training, working mainly in psychiatric hospitals. In between, I used to take one-hour sessions on various psychology/counselling-related topics, and always received great feedback. That was the main reason that, when a teaching opportunity came, I didn't have to think much before accepting it. A couple of years as a lecturer made me realise the worth and value of a PhD as a degree, along with the insight that full-time research can be fun. 
 Please tell us a bit about the topic of your PhD research, the reasons you chose to focus on this specific area, and your key findings and results. 
 Okay, so a master's degree in psychology and a couple of years of work experience as a counsellor had transformed me into a person with a keen interest in people's issues (at individual levels), and one context of particular interest to me was the workplace. I was always curious about what matters most at a workplace, and I realised it was probably the desire to be treated with dignity that weighs over everything else. But interestingly, not many efforts were done academically to define and conceptualise what dignity, specific to a workplace context, means and what impact the lack of it can have on other relevant aspects of a workplace. My PhD thesis is titled "Exploring Dignity at Workplace: A Mixed-Method Study", and if you have to put it into a basket, it aligns more with humanistic philosophies in management, which advocate for people-oriented management practices that seek profits for human ends. The key findings of my research were to give a conceptual model to the concept of "dignity at workplace" in the Indian context, develop a measure for it, and assess how it impacts other organisationally relevant variables. 
Did you face any challenges and doubts during your PhD studies? How did you overcome them?
 Well, PhD is one of the longest courses you will ever subscribe to, and it requires a minimum of 4-5 years for its completion. One has to be really lucky to have 5 consecutive years with no challenge or self-doubt. Of course, at times, you have personal issues that might pop up, and sometimes academic. Personally, the PhD program was extremely challenging, as it happened during the pandemic time. And the data I worked with was primary data – the data you collect personally, via interviews or surveys. That was just one of the many hurdles. But my extremely supportive guide, Dr. Vijayalakshmi Balasubramaniam, the Krea family in general, and a little bit of self-drive, ensured successful completion of the program.
How much endurance and determination is required to succeed in the pursuit of a PhD degree? Was it always about remaining serious, being single-focused and undistracted from your work? Can PhD also be fun?
As I mentioned, Doctoral programs are not short-term courses, and being goal-focused and having a determination to achieve them is definitely a prerequisite. But having said that, if I may rephrase your question, one doesn't have to be "serious and undistracted" all the time. In fact, compared to other academic programs, a PhD program is much more relaxed in terms of its structure, at least during its "research phase". There is no ten-to-five class hour rigidness – you work at your own convenience. You just have to adhere to certain submissions and presentations deadlines. This definitely translates to having more time for yourself. Travel, movies and food are my interests, and I always had more than enough time to explore and enjoy those interests. 
In fact, I would say that being "single-focused" on your research might actually act counterproductively. One should take breaks, enjoy other aspects of life, rejuvenate and then come back to the project with a clearer mind.
Please tell us about some of the best moments you have experienced during your PhD journey – moments of elation, triumph, and success. 
I returned to campus life after an academic gap (having worked for a few years), so I always made a point to make the most of the campus activities. It's very easy to get into the MBA crowd in the first two years of PhD, as you would be doing your coursework with them (that's how it works at Krea). 
During the first year of my PhD, my team (we were a small group of four friends) came second in a national-level ad-making competition – and that is something that is still fresh in my mind.
All the campus events and gatherings organised by various student clubs, committees, Abhyudaya (the flagship event of IFMR GSB), and regional festivals like Onam, Ganesh Chaturthi and Durga Puja, were always special.
Apart from that, we regularly trekked and traveled to nearby locations. Sri City opens up to a rich Tamil culture towards the south, and a vibrant Andhra culture once you start exploring the north; and thus it was a great starting point for a backpacker like me.
Academically, I won the Best Paper Award in a few prestigious conferences – these are definitely achievements I would love to flaunt. However, the cherry on the top was the moment I cleared my PhD and the congratulatory messages that came in, addressing me as "Dr Ameesh".
Could you share some of your greatest learnings from your PhD journey – something you will always carry with you and draw inspiration from?
Of course, every PhD student, over the course of their journey, picks up essential life skills like endurance, self-drive, improvising and handling rejection. What makes me particularly happy is that I achieved a major academic degree at a time when even surviving was difficult. We used to have these regular semi-annual review meetings, where we present to the PhD committee the progress made in the last 6 months. One of review meetings happened during the second wave of COVID, a time when the death tolls were maximum and those numbers included people we knew by name. I still remember how one of the external committee members was mighty impressed to see I could make this progress during those troubled times. I believe this was a baptism of fire for my research career, and it has instilled in me a sense of self-belief and the lesson that one needs to keep hustling. 
But apart from that, when you invest so much time trying to explore a topic, transference and countertransference are bound to happen. This is more true for social sciences as, most often, the topics we choose are closely aligned with our own belief systems. As my research was focused on demonstrating the importance of dignity, the experience certainly made me more appreciative of the people around me and made me aware of how the "little acts of kindness" can touch the lives of people around me in a big way.
And finally, what would be your piece of advice for anyone who contemplates doing a PhD and pursuing a research career?
I believe that the beauty and the perks of academia as a whole, and research in particular, is one of the best-kept secrets in the world. Generally, the research career is projected as a bookish, monotonous desk job that involves a lot of number crunching and something that sucks the life out of you. But truth be told, a research career is one of the most exciting ones you can think of. Yes, one needs to be really passionate to finish it, it is a long route, there are going to be bad days, and you will have self-doubt…but trust me, it's worth it!