Krea Student Diaries | What is it like to begin University amidst a Pandemic
By Kathan Pandya
In the beginning of 2020, my peers and I would have never imagined attending college through laptops and mobile phones. Yet, here we are left with no choice but to hold on to the fragments of our expectations with a grateful heart and mind. As the year commenced with a fun-filled week of orientation in August 2020, I felt welcomed in this vibrant community of students, professors and staff. 
When virtual classes began, I admit it wasn't easy. Sitting in front of the screen for hours and actively participating in classes soon became a mundane routine. I would often switch places to attend classes, would keep my camera on to make myself more visible, and try things to embrace the rigmarole of online classes. Professors would give a choice to students about turning cameras on because they understood our anxieties of presenting ourselves online. The courses were also modified well to suit an online setup. All the reading materials were available on Canvas – an online classroom tool. Group projects were tailored to suit the online medium. Amidst all this, we students would often talk and share how different things would be if we were on campus at that moment. Isn't it funny how students would try to skip classes on campus in the pre-pandemic world and now we can't wait to be on campus?
Attending Krea has been my first experience of meeting people from different places and cultures. I am learning how to communicate with others by striving for balance between openness and sensitivity. Creating WhatsApp groups for the whole batch is something I am truly grateful for since that was a major point of communication to socialise beyond classes. Of course, apart from the abandoned Discord groups!
We had a choice to join a maximum of five clubs, but it would become tough to engage in all of them. I was only active in two of the five I joined. It was refreshing since I could also talk to people who were not in the same class or cohort as me. Club activities are something I continue to look forward to whenever we get a chance to catch up.
Being at home while being a part of a university can be arduous. During the second wave, numerous students and professors struggled to balance the two. Whether there were house chores to do, family members to take care of, to recover and rest yourself or having to stay in the house for long periods of time- all of these reasons had naturally caused a lot of stress. But empathy being one of Krea's core values, I am glad that the professors had given us students some leeway by simplifying assignments and allowing us to manage our time to make things easier for us. The first year is over. While it might be easier to lament about how one-third of my university life has already passed online, instead, I choose to look at each and every moment as precious lessons I learnt along the way. The university has played a huge role in making the transition smoother and more comfortable. More than anything, I feel like I have gained a peek into the possible futuristic lifestyle that will be dominated by technology.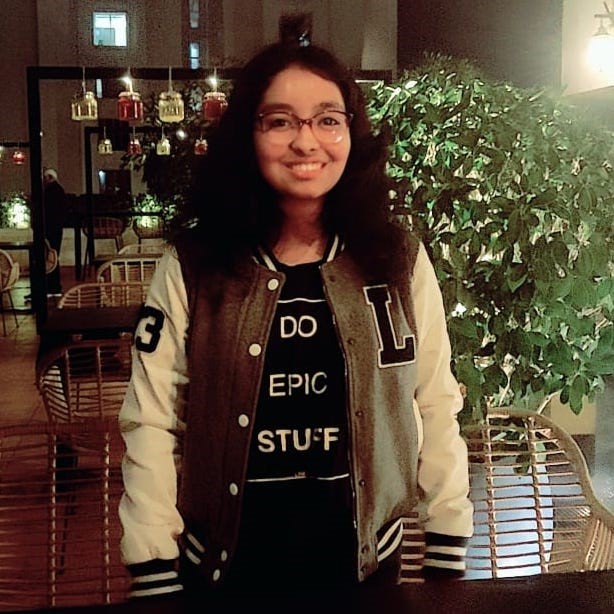 About Kathan
Embracing the space-time continuum with some laughter and overthinking.
SIAS – Cohort of 2023
Majoring in Biology