Krea Student Diaries | How the 'Krea Immersive Case' is redefining rat races into magical portals
By Chahna Ahuja, SIAS Cohort of 2024
If you ask the students of our education system to describe the process of entrance examinations for their tertiary phase of education, there is a high chance that you would hear the words "competitive", "stressful", "pressurising" in abundance. Some would say it is a rat race choked with stiff competition and undue pressure.
But, how do these assessments truly define the multidimensional facets of a student in a myriad of sectors, be it academic or non-academic? Are these examinations considering the reflections and ideologies of the student? Are they exploring the portal into their mad-hatter imaginations, to see how they view the world?
Well, I, for one, believe that the most terrible consequence of the system is bulky bags, heavy hearts, open textbooks, and closed minds. However, as a candidate for the Krea Immersive Case (KIC), I was led into a gateway for change…a window that opened multitudes of windows to the world!
As most stories go, once upon a time, a few months ago, I came across the Krea University application form. When you log in to the dashboard, the first question that greets you is an essay to define your personal story. At first glance, this question filled me with a sense of existential dread, because it prompted me to ask myself the elusive philosophical question- "Who am I?"
My first answer would probably be that I am a person who has grown up spilling ink on walls and notebooks, and it would also be my concluding statement because I still spill ink on notebooks and drawing paper (begrudgingly missing the presence of walls). However, I felt that the answer was too vast to encapsulate all the fragments of my heart. Then, I scrolled towards the end and realised an optional question in its stead. We could define our personal story through any medium, be it art, writing, or videos. At that moment, I was thrilled to see that someone finally wishes to see glimpses of my imaginations and ideas instead of my scholastic abilities first.
I submitted an art and writing portfolio which took me a while to compile. But, as an artist, I felt that my words and art expressed the dwindling enigmas and epiphanies of my soul. The application had other features that stood out from the conventional process. There was a space to share your past academic and non-academic works, extra co-curricular activities, and so on. The application process substantiated why the liberal art programme was "the one" for me.
I wanted to be a part of the liberal arts programme because I have so much love for learning, learning without restrictions, learning without fear of failure…learning for the love of learning. It is unconventional but multidimensional in all walks of life. I know that it will allow me to break boundaries. These boundaries are not only geographical, but also the boundaries that breed discrimination and indifference. I want to work for inclusivity and intersectionality through creative expression. If my dreams can be contained in an academic bucket, then that bucket is liberal arts.
The prologue of my dreams began with the Krea Immersive Case. The Krea website will describe this "assessment" as an entire day of various events that learn more about the personality and the ideas of a candidate, beyond conventional academia.
But before the official KIC, we had an informal ice-breaker with a senior buddy and other candidates to feel comfortable in the formal rounds. I still smile ear-to-ear when I look back at that event because it was wholesome to witness candidates befriending each other amidst a competitive set-up.
On the day of KIC, we went through different events- a case study presentation, a group discussion, writing a reflective essay, an interview with the panel, and finally, a quantitative aptitude test. For me, the case study presentation was on "Art and Social Change". It was filled with heart-wrenching works of art rooted in racism and poverty. It made me ponder and brim with emotions when I spoke about my ideas. It allowed me to examine my privilege and listen to the opinions of different people. It taught me that art will continue to exist in dark times as an essence of hope.
If you Google the 'top 10 ways to nail your university interview', one of the tips that show up is to talk to the interviewers like you are talking to your friends. This analogy simply means that you should express your ideas freely, without hesitation. Theoretically, it is ideal advice. However, it is also an open secret that there are certain barriers not meant to be broken. But, my experience with Krea was all about breaking my pre-existing notions of the system.
As a student, I truly felt heard and seen in my Krea admission process. It further made me realise that rat races make you develop personas, to camouflage your real identity. In contrast, a model like KIC allows you to wear your identity with a dazzling smile. Every assessment should give room for students to be open minds and closed textbooks. Education is a guide to be a good human, and I hope Krea nurtures me into one.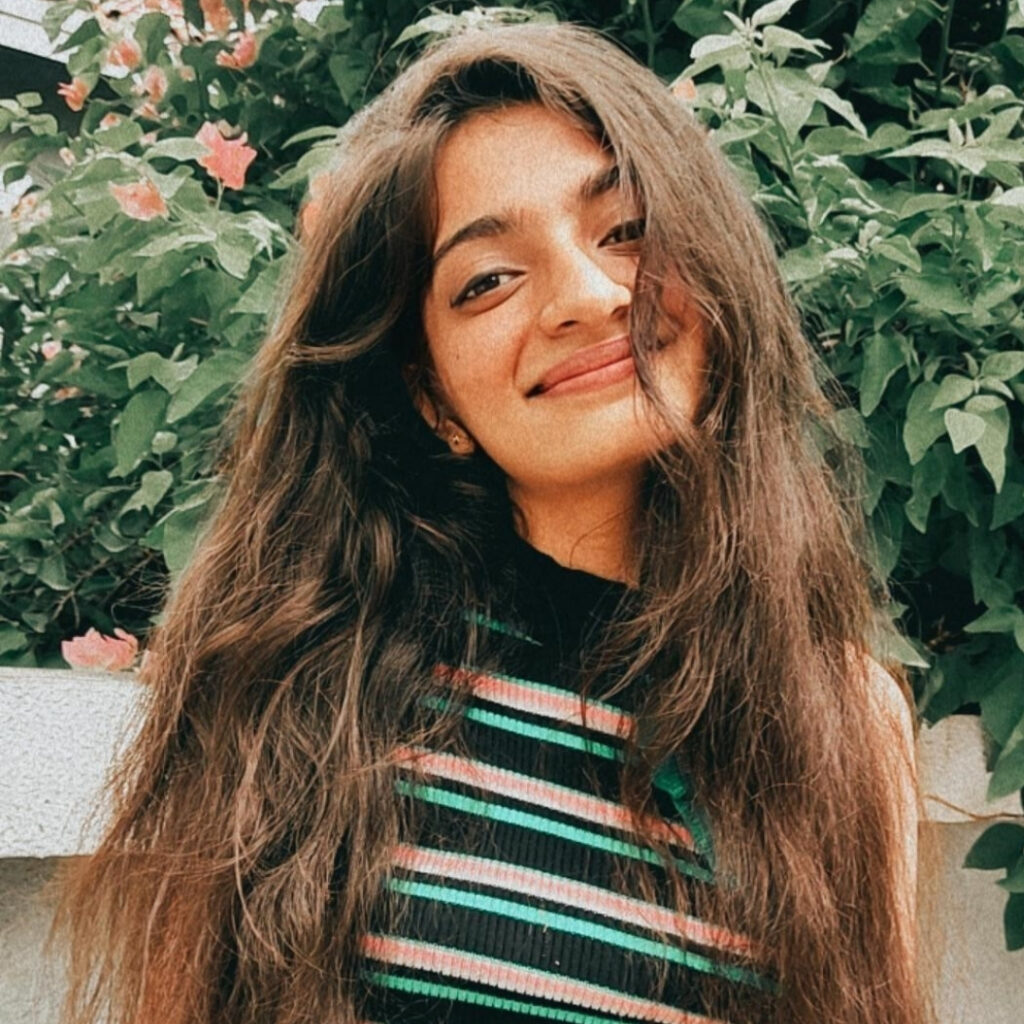 Chahna Ahuja (She/Her)
SIAS Cohort of 2024
A surrealist spilling ink, dwindling between enigmas and epiphanies