By Amit Agrawal, MBA cohort of 2021, IFMR Graduate School of Business (GSB) – Krea University
"Decades go by and nothing happens; then days go by, and decades happen" – this is a modified version of what Vladimir Lenin said in his reign in the Soviet Union. This quote is still applicable today as we observe paradigm shifts in the global frontier post-pandemic.
The speed at which the pandemic can be contained will have a huge bearing on how the world economy performs. I've tried segmenting this article in ways that summons the very notion of dormancy in the global economy followed by its unprecedented agony towards the developed and developing states.
The world today is unfortunately not only about expanding economic and technological horizons. There are dangers and pitfalls such as poverty, environmental degradation, constriction of political freedom and choice, growth of extremism and intolerance, international terrorism, the proliferation of weapons of mass destruction, and the risk of their falling into the hands of irresponsible actors, pandemics, and energy security. What I feel quite often is that the manner of addressing some of these challenges poses a challenge in itself.
THE UNEVEN RECOVERY
The global economy will grow again at a range of 4% (World Bank) to 6.4% (Morgan Stanley) in 2021 with successful vaccine trails bolstering confidence after a 4.3% contraction (less severe as projected) in virus-stricken 2020. In advanced economies, a nascent rebound stalled in the third quarter following a resurgence of infections, pointing to a slow and challenging recovery. Whereas in EMDEs (Emerging Markets and Developing Economies), aggregate GDP will grow at 5% in this fiscal, including China. Oxford Economics briefs about uneven global recovery dictated by three key themes – Vaccine winners and losers; bright spot for the industry; passing on the baton from the public to the private sector. But on the flip side, 'The Conference Board' strongly argues that the pandemic-induced losses are not likely to be fully recouped. Downside risks include looming sovereign debt crises, heightened geopolitical tensions, de-globalization, and renewed trade wars which are very much observed in the following sections.
REGIONAL INSIGHTS
'An Iron Fist in a Velvet Glove'
India, as we speak of it, has already started etching a successfully vaccinated country. This is what people now talk, eat, and breathe just to "feel" immunized against the human infused virus. But it has to be noted that India is still under the radar and considered an EM where vaccine rollouts will be patchier and generally slower (as per Oxford Economics stats 2021) because the common denominator for the EMDEs has been a temporary collapse in economic activity followed by a rise in debt. Even after strong arguments, Indians would believe in soft power based on hardcore facts. Against that, we have to ensure that we are not an ostrich, with our head in the sand, and nor are we dreamers in an ivory tower.
'Ephemeral', as it should be
Haver Analytics, in collaboration with Oxford Economics, shows the biggest GDP growth rebounds over the course of 2021 are expected to be in Europe, with the UK and Spain, in particular, sitting toward the top. Owing to China's remarkable rebound already, it sits low in the growth league (behind serial poor performer Italy). Despite China's peak performance in retail sales (>4% YoY growth) with a stronghold in fixed asset investments (>6% YoY growth) and housing sales, there are stability concerns in China which mean its government cannot be relied upon to the role of 'spender of last resort'.
World GDP – % year in Q4 2021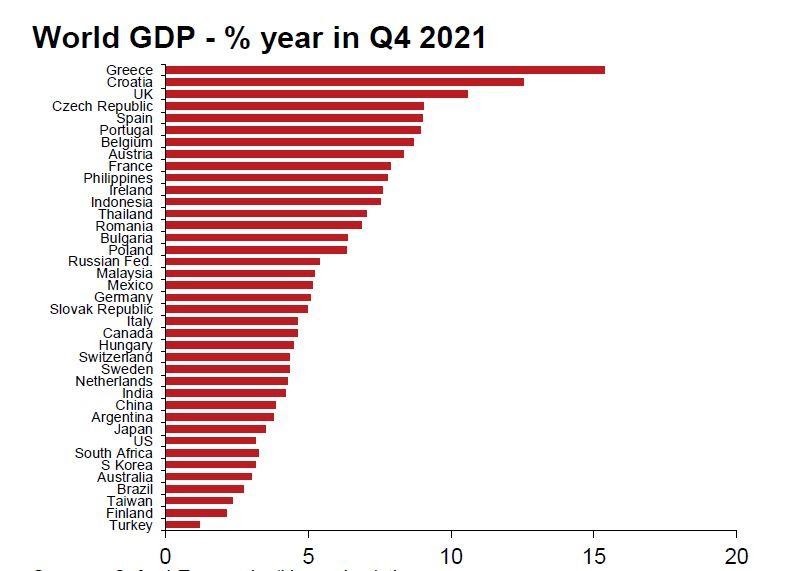 Source: Oxford Economics/Haver Analytics
Link: https://resources.oxfordeconomics.com/hubfs/content-hub/Global%20Key%20themes%20RB%2020201207.pdf (Screenshot)
Instability is the second name
In the Middle Eastern regions, the dual shock of the COVID-19 pandemic and the subsequent collapse of global oil demand and prices is expected to result in a further 4.5% dip – except Turkey. But being specific to Gulf nations, the short-term outlook is similarly marked by high fiscal deficits and increasing debt levels. UAE's central bank stimulus and Saudi's domestic demand recovery set in 2021 would still mark prospects of muted economic recovery. As per my judgments, oil prices reaching anywhere near Saudi Arabia's or UAE's fiscal break-even oil price is skeptical this year. Gulf governments will continue to resort to traditional policies of streaming oil revenues back into the economy through project awards to boost consumer demand instead of greater investment in a diverse set of industries.
Harder times elsewhere
One of its articles published on January 5, 2021 'The Conversation' rightly quoted the status of rich countries like the US, UK, and those in mainland Europe. Their economies have stagnated after brief recoveries in 2020. Uneven lockdown patterns, rising debt levels (see graph), slump in consumer confidence are clear indicators that the picture is less rosy. The December 2020 Report of Fitch Ratings stated that the winter lockdowns will weigh on annual growth in 2021 for the Eurozone.
Note: CE = Central Europe; WBK = Western Balkans; ECA = Europe and Central Asia; EE = Eastern Europe; SCC = South Caucasus; CA = Central Asia. Aggregates are 2021-22 unweighted averages of general government gross debt. Horizontal line corresponds to 2010-19 unweighted averages. Sample includes 23 ECA countries.
INTERNATIONAL RELATIONS POST PANDEMIC
Paradigm shifts: Sino-India Relations
One study at Sorbonne University in 2008 found that while openness to trade doesn't automatically prevent war, there's a greater risk of conflict when countries grow less economically dependent on each other, as appears to now be happening with China and India. Paradoxically, that means globalization can make matters worse: Countries that become more integrated with the world economy are more able to endure the loss of commerce with a single nearby rival. (Source: BloombergQuint) What I prefer summarizing this relation is Hindi-Chini: bhai-bhai to buy-buy to bye-bye!
'Light at the end of the tunnel': Middle East conditioning
This region is infamous for its instability and chaos due to proxy wars, power hunger, and oil control. To formulate its relations within its perimeter and beyond, the Middle East (as Singapore once did) should embrace a master economic plan which facilitates private-sector enterprise. Otherwise, the imbalance between consumption and production will endure, and the smartest and most entrepreneurial individuals will continue to emigrate to the West.
Europe (de)railing?
Economic activity is unlikely to reach pre-pandemic levels and will now be more subdued. The issue lies in the UK Treasury's inherent conservatism. The United Kingdom itself still needs to formalize its divorce from the EU. Italy remains a separation risk. And Scotland has expressed a desire to leave the United Kingdom. There is a Greek saying which says we cannot get into the same river twice though the river is the same, the water flow keeps changing continuously. By cutting a separate deal with China, the EU has repeated the mistake of the Trump administration when it went solo in its trade war against China. The CAI (Comprehensive Agreement on Investment of Dec 30, 2020) will damage both the EU's comparative advantage vis-à-vis China and its transatlantic alliance with the U.S.
————
In the words of (late) former President of India Dr. Pranab Mukherjee, "an essential priority for the world today has to be a new consciousness, not just among the political elites, but also among the peoples of the world, that their choices and their actions affect all others on this planet. This consciousness is what would break down the barriers to greater global cooperation and lead to the structures and processes that are needed to address international challenges." (An excerpt from the book 'India of My Dreams' by Surendra Kumar and Pradeep Kapur)