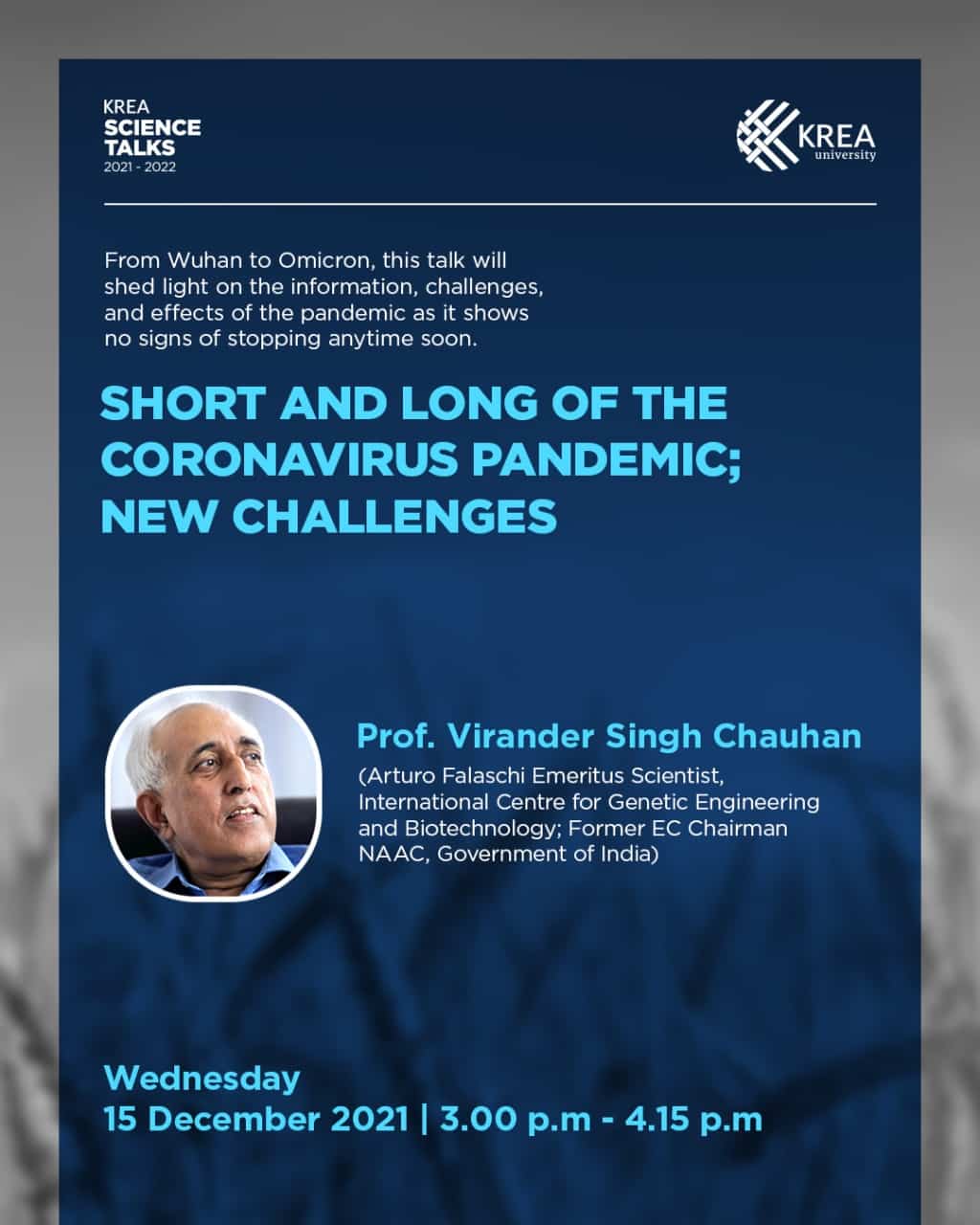 Short and Long of the Coronavirus Pandemic; New Challenges
27
27 people viewed this event.
From Wuhan to Omicron, this talk will shed light on the information, challenges, and effects of the pandemic as it shows no signs of stopping anytime soon.
Professor Virander Singh Chauhan
Arturo Falaschi Emeritus Scientist, International Centre for Genetic Engineering and Biotechnology; Former EC Chairman NAAC, Government of India
About the Speaker
Professor Virander Singh Chauhan is a renowned scientist who works in the field of genetic engineering and biotechnology, and is known especially for his contributions to the development of a recombinant vaccine for malaria. He is the Arturo Falaschi Emeritus Scientist at the International Centre for Genetic Engineering and Biotechnology. Previously, he was Professor of Chemistry at the University of Delhi, EC Chairman of the National Assessment and Accreditation Council (NAAC), and Chairman of the University Grants Commission (UGC). For his contributions to the field of science, Professor Chauhan was awarded the Padma Shri (2012), the Raj Kristo Dutt Memorial Award (2010), Basanti Devi Amir Chand Prize (2003), the OP Bhasin Award (2002), and the Ranbaxy Research Award for Pharmaceutical Sciences, India. He is a Fellow of the Academy of Sciences for the Developing World (TWAS), Indian Academy of Sciences, Bangalore, National Academy of Sciences (India), Allahabad, and Indian Society for Parasitology.
About the Talk
It's been more than two years but a new coronavirus, SARS-Cov-2, originating from Wuhan in China, has spread all over the world rapidly causing unprecedented damage to human health and economies. The disease caused by the virus infection, COVID-19, has claimed more than 5.3 million deaths. Science moved fast and a number of efficacious vaccines were developed at a pace never achieved before. More than 8 billion shots of these vaccines have already been administered worldwide. But, the virus also moved fast, and many more virulent and fast spreading mutants appeared which have completely replaced the original Wuhan virus. The pandemic, which is still very much amongst us, is completely driven by a mutant first detected in India, worldwide. Very recently, another highly transmissible variant of the virus first detected in Botswana and South Africa is now fast spreading all over the world, and has managed to create a panic like situation yet again.
Several issues around the vaccine development, vaccination programs, new therapeutics, and the current information available on the new variant, Omicron will be discussed.